Shuli Egar is a comedian who first appeared on The Howard Stern Show in June 2003. When Stern moved to Sirius Satellite Radio he was made the host of the "Miserable Men" show. He was later promoted to be an on-air reporter for Howard 100 news, focusing on stories about The Wack Pack and filling in for Lisa G and Steve Langford when they're out. Shuli is embarking on another comedy across America with the Miserable Men Comedy Show starring Shuli and Miserable Men co-hosts Mark Byrnes and Mike Morse. The radio program – currently one of only two live weekend shows on Howard Stern's two stations – tackles male-related subjects in a no-holds barred approach and the tour promises to do just that and then some.  He recently released a comedy DVD titled "Call of Shuli: Israeli Funny".
Source: Wikipedia.org | JewGoneWild.com
CC: How did you get your start as a comedian?
Shuli always loved making people laugh since childhood and became fascinated by laughter because each person's is so unique.
SE: "When I meet people my first instinct is to make them laugh and hear what theirs sounds like.  I've always busted balls and told jokes as long as I can remember.  Eventually it got to the point where I was always cracking people up; but I wondered if my friends and family we're just being nice. So, I went to LA and stood in line for 10 hours for Open Mic at The Laugh Factory. I bombed miserably. But I got one laugh and that one laugh was all it took to convince me I was going to try it again. So I kept working at it, I wanted to get better and better."
He tells us a story of the time he waited in line for 14 hours to audition for the second season of Last Comic Standing, a stand-up comedy elimination style competitive reality show.  Overly tired from the wait but ready to audition, a hopeful Shuli was quickly confronted with opposition from the judges panel before delivering his first joke.  A sarcastic response from Shuli was all it took to cut the audition short and send him on his way, even before starting his act.  He recalls immense frustration for waiting so long and ending up without even one delivered joke; but it was at that moment that he realized, "If I'm willing to wait 14 hours in line to do this, then I'm willing to do anything."
CC: What is it like being the Wack Pack king?
Shuli expressed his gratitude for the position he's attained in his career and the happiness and contentment with where he's moving in life.  He discovered exactly what he wanted to do and worked hard to attain it.  Life's little moments of clarity can change the entire course of our lives if we pay attention to them.  Shuli recalls several key moments that convinced him to pursue a career in comedy.  He happily speaks with confidence about his career and expresses his excitement about future projects, his DVD and his progress so far working with the Howard Stern Show.
SE: "I'm a Super Fan of the show first and foremost and every Super Fan's dream is to get a call, look down at their phone and see Retard Gary calling.  I don't have the journalistic credentials that other reporters here have, so to be able to work that beat and work with them makes my job very fun and at times very easy. Sometimes I just have to hit record and let them talk."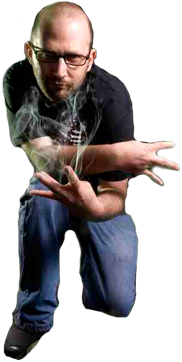 According to Shuli's website, after seven years of weekly 10-minute phone calls to the Howard Stern Show and an exciting encounter with Stern and company at a blackjack table in Las Vegas, he received a call asking him to a one-week audition for a secret position.
Shuli was convinced the offer was a goof because a year earlier he entered a contest called "Get John's Job" that sought to replace the departing "Stuttering" John Melendez and placed dead last. But he bought a ticket to New York anyway, promising whoever was on the other line that if this was a prank, he'd show up and kick them in the marbles.
Shuli soon discovered it was no joke and was brought in as a consultant for the newly-formed Howard 100 News team, a group of journalists whose sole job was to cover any and all Howard Stern news. Shuli was the only non-reporter of the bunch and found ways to stay past his one-week engagement by taking the initiative to produce his own segments and bits. His go-getter attitude landed him a full-time gig, which ballooned into coveted slots on the popular Stern Show roasts, as well as becoming a contributor to the Scott Ferrall Show and co-host of the Sirius Satellite Radio programs The Jay Thomas Show and Miserable Men. Source: JewGoneWild.com
SE: I listened for years and never thought I'd be this much of a part of things.  It's one thing to be Riley, but what's your problem when youre the guy living off of Riley.  It's a blast, it's never the same day, never the same job. I've had a lot of bad jobs, but this one is without a doubt is the greatest I've ever had.
CC: Did you go to college and if so, what was your best memory?
Though many people including Shuli didn't opt to share in what might appear to be the typical college experience, this time of a young person's life is the most crucial for sustainable development.  Nobody is here to say that one post high school or "college" experience is any better or worse than the other, but that what we choose to learn in this time will undoubtedly affect the rest of our lives.
SE: "No I didn't go to college. School was more of a hangout and a just a place to try out jokes. It was a social club for me. Once I got through with high school I just wanted to roam the Earth and learn about life."
CC: What is your pump up jam you like to listen to before going on stage?
SE: "I love Lamb of God. They're f-ing awesome. I've seen five of their shows, interviewed the lead singer and hung out with drummer.  They're sh-t is just ridiculous. I love listening to them in the morning when I'm taking the train in. I'm all cranky and tired and pissed off, then I turn on Lamb of God; he's screaming and more pissed off than I am. It actually calms me down.  Also I love hip hop, I got my hood pass. I'm an OG, actually an OJ – original Jew."
CC: What is your best advice to people pursuing their dreams?
SE: "I'm probably the last person to say this, but, keep pursuing them and they'll come true. I get such a kick out of this, it's surreal for me to be a part of this experience.  When I do stand-up [comedy] I meet lots of people.  When people tell me, 'Your [comedy] gets me through my commute, or my boring job,' I know exactly what they mean because that used to be me.  If you believe in something that strongly and you really want to do it, you've got to start and just try it."
CC: You have a DVD out…has social networking impacted the way that you promote things like your DVD release or comedy shows?
Shuli concluded by expressing his appreciation for fans of his work and excitement for now having over 18,000 followers on Twitter.  He's glad to connect with his fans and is proud to tell them about the release of his DVD, Israeli Funny.
On Shuli's website it notes; 'His go-getter attitude landed him a full-time gig, which ballooned into coveted slots on the popular Stern Show roasts, as well as becoming a contributor to the Scott Ferrall Show and co-host of the Sirius Satellite Radio programs The Jay Thomas Show and Miserable Men.'
There you have it, a big thanks to the very funny Shuli Egar!
Be sure to check out more audio, photos, video, DVD, tour tickets and show dates from Shuli Egar with the information listed below.
Check out Shuli, Live!
Friday May 13 : The Miserable Men Comedy Show
La Bella
581 Second Avenue
corner of East 32nd Street
Manhattan NY 10016
Click here to order tickets online.
9pm Doors; 10pm Show
Shuli's Website: https://www.jewgonewild.com/
Shuli's Twitter: https://twitter.com/shalomshuli
Interviewed by: Dom Marino and Brett Napoli for CollegeCures.com