By David Replogle for The Real College Guide
You can have great credentials and a picture-perfect resume, but you only get one chance to make a good first impression on a potential employer — and that usually happens when you sit down for the job interview. Here's how to shine.
Practice Answering Job Interview Questions
Your school's career center can be the ultimate resource for your job search. You can brush up on career advice, get your resume in order … and prep for the job interview. The career center at the College of William & Mary offers a mock interview process in which students "rehearse" with professionals. Says Mary Schiller, the center's director: "It's a great way to practice for the day of the real interview."
Virginia Polytechnic Institute and State University recently implemented Interview Stream, an electronic program in which students webcam themselves answering any of thousands of job interview questions on tap. "It's a great system because students see how they look answering the questions and listen to their responses afterward," says a rep from Virginia Tech's career services office. Students can later request an appointment with a career advisor, who critiques the interview.
Know Thyself Once You Get to the Job Interview
While it's impossible to predict what questions might get thrown your way, be prepared to talk about yourself. "Students need to know their aptitudes, values and work style," says Schiller. "Being able to communicate strengths as well as what can be improved upon is key, as are long- and short-term goals."
Dean Gualco, human resources consultant and author of The Good Manager: A Guide for the Twenty-First Century Manager, says, "Finding the right person is more art than science, but there are attributes to look out for when hiring." Gualco suggests college students and recent grads "MILK" the interview process, an acronym he uses to describe the following traits hiring managers look for in today's workforce: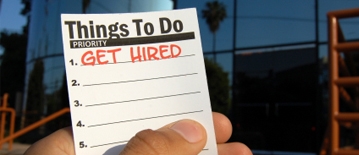 Manageable
"It's important that you're able to work well with others.
Inspired
"The applicant should find the job interesting and challenging.
Likeable
"Nice guys don't always finish last."
Knowledgeable
"You've got the degree, but there might be other components about the job you need to know — so, show that you're willing to learn."
Do Your Homework Before the Job Interview
Know the organization too, advises Schiller: "Gather as much information as you can. Evaluate specific details of the job, what the company does, the market, potential co-workers — research everything. If you have access to someone within the company, ask questions."
Rick Silipigni, managing director at Qorvis, a D.C.-based communications firm, echoes Schiller's sentiments: "There's nothing that impresses me more during a job interview than a candidate who knows the company inside and out. It's the perfect way to make an excellent first impression with what could be your future boss."
Be Prepared to Take a Test During the Job Interview
Yeah, we know you're sick of exams. But Schiller points out that several companies use standard behavioral tests to quiz candidates with questions along the lines of "Can you describe a time in which you made a difficult decision?" or "What have you done to develop your leadership skills?"
Instead of freezing up if you get hit with a test, see this as an opportunity to show the employer that your skill set is even broader. It's usually inappropriate to include your extensive background in baby-sitting on your resume, for example, but a test question could allow you to outline how you're able to successfully take charge and problem-solve. "Being able to zero in on specific experiences will help you out a lot," says Silipigni.
Don't Blow the Job Interview With Common Mistakes
Now that we've walked you through the do's, here's what you do NOT want to do when going for a job interview:DON'T dress inappropriately. "It's always better to overdress than underdress," says Silipigni. "Show the person in charge of hiring that you take the job opportunity seriously." No flip-flops! No jeans! No hats! Pretend you're going to traffic court.
DON'T bring a buddy.

You want to demonstrate that you're independent and mature. If you feel you need a friend for support, have the person wait for you outside (and out of sight) while you're interviewing.

DON'T act all wishy-washy.

"Keep in mind firm handshakes, eye contact and being friendly to everyone you meet from the moment you walk in the door to the moment you leave," says Schiller.

DON'T answer your cell.

Turn it off during the interview and even while you're in the waiting area. Repeatedly checking your phone shows that you lack focus and are easily distracted.

DON'T forget to follow up.

"Be very gracious for the interviewer's time, being sure to follow up with a thank you," says Schiller. Send a handwritten note by snail mail, or email a typed letter — do not text.