A story many can relate to: being in a relationship in high school, falling in love so deep the thought of breaking up hurts. Right? So instead of breaking up, you two agree on trying to make a long distance relationship work because, in your mind, that's better than nothing. Right?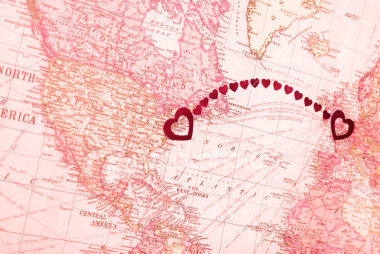 But after you arrived at college you both realize how much work it takes to keep the spark alive because communication is all you have…and if you haven't perfected that, there are problems. Right?
Well, don't lose hope just yet because there is help. I have done research on long distance relationships and have found several tips that I feel you will benefit from.
1. Define the Relationship
Instead of making assumptions, set the record straight. Make it clear what you, as an individual, want. Do you want to be in a relationship or will you be just friends? This helps to eliminate jealousy and future heart breaks. That is because you would have known from the beginning what to expect instead of entering it with no clue.
2. Be Honest
Honesty, in any relationship, is crucial. As stated before, being able to define the relationship means you have no choice but to be honest. Being truthful about what you are involved in, helps to build trust within the relationship. If you keep secrets, your partner will assume you are hiding things. Which will eventually lead to fights and resentment.
3. Patience
If you are not very patient, maybe being in a long distance relationship isn't for you. Why? Because you may not see your partner for months at a time and impatience will make you begin searching for affection in other places.
If you do not want to be in a long distance relationship, this is also very important to consider. Don't put yourself in a situation that you can not handle and you do not want to give someone false hope.
In love, peace and happiness
Bianca Salvant
PS: Follow us on twitter @CollegeCures and on Facebook at CollegeCures.com 🙂