Rollerskating has gradually fallen into the past these last few years but it's coming back in force! On social networks, the sport collects millions of views, between tutorials and choreographies on wheels.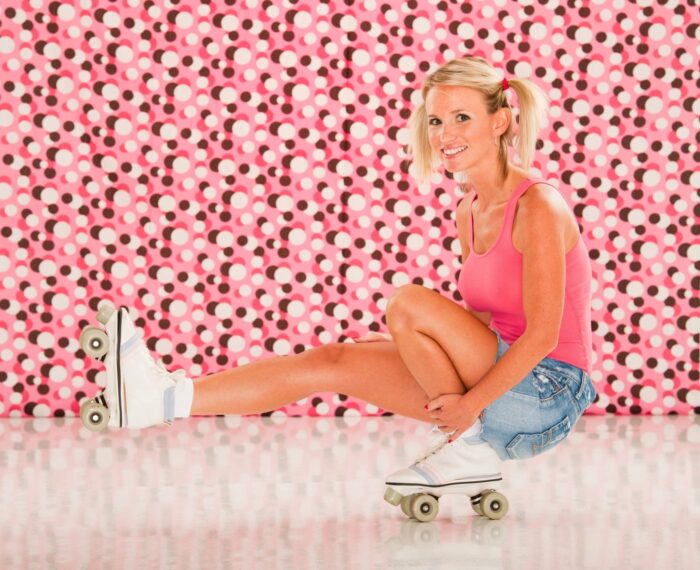 Back in the spotlight for the past 6 months
How to get around when you want to avoid public transport and the car ? Bicycles are popular, and cities are creating much wider paths or transforming car lanes into bike lanes. But in ambush was the rollerblade. No one saw it coming, but it's making a comeback… from social networks.  In June 2020, Oumi Janta, a young 17 year old from Berlin with Senegalese origin, became a web sensation with a video that has now been seen more than three million times. On her four-wheeled rollerblades, dressed all in yellow, she dances to an electro rhythm, almost giving the impression of flying. Since the release of this mini-clip, the young woman has exploded her number of subscribers and was invited to roll during the Etam Live Show 2020 last September. On Tik-Tok, the Californian actress and dancer Ana Coto posted a video of her, duly masked, moving on the road with her rollerblades, on a music of Jennifer Lopez from 2002. Result ? 10 million views and as many girls who also want to get into it, causing stock-outs at Impala and Moxi, two of the most popular roller brands of the moment. If social networks have favored the return of rollerblading, the pandemic is not for nothing either : after the periods of restriction and confinement people needed to reunite and enjoy the fresh air.
This return also surfs on the vintage trend. Roller quads with its double pair of 2 wheels and its front wheel that are trendy.  Old fashioned ones, or almost. In any case, nothing to do with these inline skates that have been popular in recent years. The design and colors of the roller quads on sale are strongly reminiscent of old-fashioned 60s skates but are more comfortable, like sneakers.
An activity with many benefits
Whether rollerblading is practiced as a leisure activity or in a more sportive way, like roller dance, roller derby, or roller fitness, the discipline has many benefits.
It is the ideal activity to mix muscular reinforcement and fun but it is also excellent to work on motor coordination. With practice, balance becomes spontaneous, and one's ability to coordinate and add reflexes increases. When performing the skating step, the abduction and the movements put a lot of strain on the thigh and buttock muscles. To maintain your balance, the entire abdominal muscles are used. At the beginning, you will certainly feel some soreness, but with time you will be delighted to see your body toned thanks to this fun activity. Roller fitness improves your endurance and heart rate by stimulating the entire cardiovascular system, strengthening the heart and improving blood circulation. In one hour of rollerblading, you burn about 500 calories. Regularly practicing this sport allows fat mass to melt away and accelerates weight loss.
Rollerskating is also good for your mindset. Once the roller quads are on your feet and the glide begins, you will feel an immediate well-being. Practiced outdoors, roller allows you to clear your head, evacuate the stress of your day and release the pressure while providing a feeling of freedom. Practicing rollerblading develops self-confidence, a more positive attitude, a willingness to dare and to reach set goals. It is the whole mind which will be transformed allowing to be stronger and to have more confidence in oneself. Even if rollerskating is an individual sport, it is often practiced in group allowing to create social link, to meet people and to share the same passion. Rollerskating is accessible to everyone: children or adults, men or women, experienced athletes or beginners… Everyone adapts his or her rollerblading practice to his or her level and abilities. It's a perfect activity to share good moments of pleasure with family or friends.
Getting started or getting back into rollerblading
In 2010, the movie Bliss with Drew Barrymore and Elliott Page inspired thousands of teenage girls to try roller derby. Nowadays, these teenagers prefer to skate for dancing or just to roll in the street in complete safety and learning to skate never was so easy. If you are tempted by the adventure but haven't put on your rollers for a long time or never you can choose to learn on your own, self-taught with the help of thousands of tutorials on Youtube. In your living room, play your favorite song loud and give a try !You will be safe from other's eyes during your first falls ! In town, you can join one of the many skating groups, where more experienced skaters will share their tips and tricks with you. It's fun, but you may get frustrated if you don't progress fast enough to keep up with your friends. The best solution is to take a class, where you can learn safely. Your teacher's advice will help you feel confident more quickly and you'll have a solid foundation for many other rollerskating activities. If on Instagram skaters wear mini shorts, little tops and high socks in pop colors, it is highly recommended to add to your outfit some protection: knee pads, elbow pads, gloves and of course a helmet. If you don't want to sacrifice style, it's possible to find very nice ones in specialized stores.