College is a time for plenty of fun—new experiences, new friends, and new possibilities. But it can also come with its fair share of stress!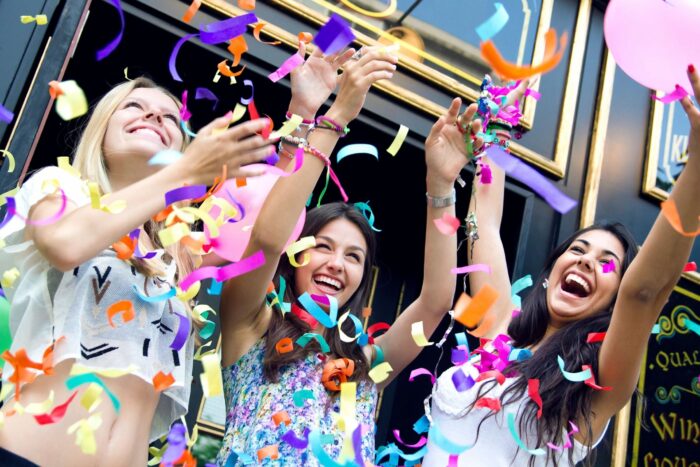 You're dealing with a bigger workload, more homework than ever, and having to juggle new responsibilities for the first time. Not to mention the dreaded midterm and finals weeks—it's enough to stress anyone out! 
Even though you want to prioritize your school work, it's also important to remember to have some fun, de-stress, and take care of yourself. After all, this should be the most fun time of your life! Read on to find out 8 ways to slow down and have some fun, even when you're super stressed.
Have an Awesome Dance Party
Nothing can boot stress away like getting your body moving! The best way to do that is a dance party, of course! 
You can make this a special time for just yourself: pick a time when you're in your dorm alone, crank up the music (or throw on some headphones if your neighbors are studying) and bust a move! Make a playlist of your favorite tunes for the occasion. 
Or, you can get together with a group of close friends and dance party it up together. Compile a playlist of everyone's favorite songs, spread out, and dance like crazy! This way is likely to come with quite a bit of giggling and fun, perfect for de-stressing!
Try the Latest Netflix Binge
Sometimes moving and grooving isn't the answer—instead, you need to relax and turn your mind off of school, work, and responsibility! That's the perfect time for a Netflix binge! Ask your friends to recommend their latest favorite shows and pick out a binge-worthy one. 
Invite over a couple of friends and make a pajama party out of it—don't forget the popcorn and candy! 
Eat Your Favorite Foods
Comfort food is a real thing, and it can help you when you start to feel overwhelmed from school! But instead of eating alone in your dorm room, make this a fun social event.
You and your friends can each bring your favorite go-to comfort food for a snack potluck. For extra fun, make it a picnic outing and get some fresh air while you're at it! Everyone will have fun sampling each other's favorite snacks and sharing fond food memories. It's a great way to get your mind off of stress and relax with friends!
Hold a Scavenger Hunt  
Looking for the perfect activity to break away from the daily grind and have a blast? Try putting together a scavenger hunt! 
Put together a range of tasks to complete—like spotting a cute dog in town, swinging on a park swing set, finding a graffiti wall, meeting someone with an interesting tattoo…the possibilities are endless. 
If you have trouble with ideas, ask for suggestions on social media or head over to Pinterest for some premade lists! 
Then, have everyone divide into small groups and get ready to tackle the list! Make sure every group has an instant camera to document task completions and bring back prints to compare at the end. Use the INSTAX MINI 40™ and see who came up with the most creative solutions! 
Explore the Town
Getting off campus can keep your mind off school and help you meet new people and see new things! 
Spend a day exploring your town: visit a quirky coffee shop, hear a local band perform, have brunch in a new spot! 
Your town is full of hidden gems that you haven't discovered yet, so get out there and explore! 
Color and Craft
Crafters will be the first to tell you that working with your hands is the ideal way to de-stress! 
If you're creative, hit up the craft store and learn a new hobby, like knitting, cross stitch, painting, or jewelry making! You'll be so excited to learn a new skill and so proud of yourself for creating something new that you won't have time to worry about school. 
Not a crafter? Don't worry! Anybody can enjoy an intricate coloring book. Pick up some colored pencils or markers and de-stress while coloring away! 
Be Mindful With Yoga
Yoga has been used to help people relax for centuries! It's a great way to destress and keep your body healthy at the same time. 
Check out your school's fitness center and see if they offer any yoga classes. If not, look into local yoga studios in town. Many of them offer free or discounted introductory sessions so you can try it out and see if you like it! 
You might just discover that you have a talent you didn't even know about! 
Find Your Outlet
The most important thing is that you make time for yourself to do what you love and prioritize your own mental health! 
School and work are important, but everyone deserves a break. Find your outlet and make sure you set time aside to de-stress, have fun, and relax!
Author Bio:
This article was written by the INSTAX Brand Team. The INSTAX team is dedicated to helping people experience life more fully with their instant cameras. INSTAX wants to give individuals a tool to create, express, and share their memories. Learn more about INSTAX cameras, printers, and film here.