As the global business market moves further away from paper-based communications and continues to migrate to digital platforms, we're confidently carving out a future that is more eco-friendly. But, it's not just businesses that are hungry for a tech-based future. College students now take the majority of their tests and quizzes in online formats, not only because it's easier for the students, but also because it saves professors hours of meticulous grading. 
As learning becomes more tech-dependent, so has the world of resumes and portfolio building. Gone are the days of printing your resume or lugging around physical samples of work – it's all about your online portfolio and digital presence.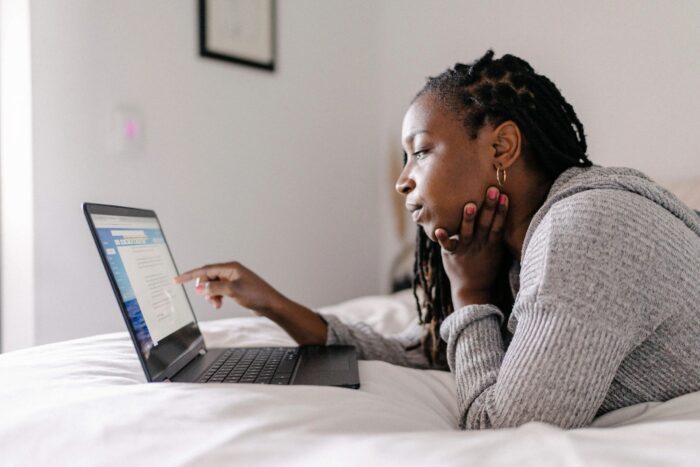 Branding yourself with a fully functioning website before graduation is no longer the exception, it's the rule. As digital natives, being web-savvy and having years of practice with social platforms definitely provides GenZ a competitive edge in our increasingly virtual work environments, but we need to be able to demonstrate that skill.
However, a word of caution. It seems like choosing a domain name, your web provider and a web host is a pretty casual decision, but truth be told, it's more important than you think. Some of the seemingly convenient website builders on the market are free as long as you keep their branded URL, but try to look more professional and upgrade to a custom domain, and you may find yourself with sticker shock how much those "free" sites actually end up costing you.
When it comes to fiscally tying your name to a domain provider, it can be difficult to know what services to trust. We all want a domain that's secure, easy to build, modern, stylish and most importantly, able to scale with our growth as professionals.
Meet, Domain.com.
What is Domain.com?
If you do a bit of your own research, you may find that the name Domain.com didn't start floating around until around 2014. Can you trust such a new company?!
Don't worry; they've actually been around for over 20 years. 
Domain.com evolved from a company called Dotster, which was founded in 1998. Dotster had a pretty impressive start, winning a handful of awards in the 2000s and accounting for roughly 1% of all domain name registrations worldwide at one point. Not too shabby. 
In 2011, a company called Endurance International Group (EIG) acquired them. You may be more likely to be familiar with EIG from their other brands like Constant Contact and HostGator.
At the time, this was a pretty big deal for them since they had not put as much emphasis on domains themselves, but most of their brands specialized in other aspects of building a website. 
As they were looking at the best way to market this new area of their business, they made the strategic decision to rebrand Dotster as Domain.com, a URL that was acquired along with Dotster, which seemed a stronger name for both branding and SEO. In 2014, EIG launched Domain.com as its primary domain-leading brand, serving as the parent company for Dotster and several other similar brands in their portfolio (Netfirms and MyDomain). 
Schedule An Appointment With Advising
Now that the history lesson is over, you're probably curious why a college student has a strong preference for such a seemingly irrelevant thing such as purchasing web domains. Shouldn't I be more worried about studying and socializing?
Actually, that's part of the reason that I like working with the Domain.com brand. They are not only a reliable source for purchasing a website, they are also a trusted advisor when it comes to making decisions about building a website. Meaning, they help their customers by pointing them in the right direction based on their individual wants and needs. 
I can get pretty frustrated when I'm not good at something right away (something I feel that we can all relate to), and setting up a website on your own can be a tad complicated, so having on-call support to answer questions is incredibly helpful.
Their advising ranges from tips to setting up your website, to formatting it the best way possible. They can give you advice on any questions you may have by offering expert support with each of their different tiered plans. Each plan also gives you access to blogs that go over various concepts regarding domains with insights into how to manage your new site. Their experts can even build your website for you, for a small fee. 
Regardless of if you are dreaming up your new side hustle, making a website for a portfolio, or even just creating a landing page for your next theme party, there are flexible options that adapt to what you need. You will find that their website is versatile in their offerings when finding what their audience needs, acting as a product suite for the customers. 
Students, young professionals, and those browsing the job market can purchase a domain name and then appear more professional by registering a branded email address through G Suite. No longer will I be reaching out to potential employers as Lucyfer1999, or whatever other funny-at-the-time email address you came up with in middle school. And because you can set it up as a Gmail account, you aren't fumbling through learning some poorly designed program.
You can actually even create a branded email without having a website, just by registering a domain and then signing up for the email subscription. Domain.com makes it pretty easy.
Not Just Domains Any More
Are you trying to make your million-dollar idea a reality before graduation, but you don't know how to get there? I don't think the cast of Shark Tank is going to care much about your novelty product, at least not until you're able to establish yourself a bit. 
Although probably the biggest advantages to working with Domain.com are their advanced algorithms for helping you pick out the perfect domain name and their 24/7 customer service, they are actually a one-stop-shop for setting up your new venture. 
Web hosting is what keeps your website online, and there are packages available that you can pair with your domain purchase, so all of those services are managed in one place. They range in price depending on how fast you need the website to be, etc., however, it's all pretty reasonable month-to-month or with some hefty discounts annually.
The packages sold include WordPress, traditional hosting packages, and even website building tools. These website builders are incredibly beneficial for individuals who may have no idea how to code their own site and offer building blocks to make it simple. 
This tool allows users to pick a template and then drag and drop it onto their site. You can easily create your own website and publish it on the same day with this tool. To me, this is a pretty important benefit because most people probably do not have the time to start a website from scratch, so having access to premade templates makes your job much easier.
And once you get everything rolling, there are services available that help you get your website ranking better, guide you with marketing, make sure your website is secure; all the things. 
Really, the only hurdle you have in creating your own website RIGHT NOW is… well… I can't think of anything. Just you, I guess.
Marking Your Territory
Alright! You're ready to make my mark on the world, and now all you need to do is get started. You've heard me be evangelical about Domain.com throughout the last 5 minutes of your life, but why should you trust me? 
Honestly, you shouldn't. You should make those decisions for yourself. 
However, consider this.
Think of the costs associated with a website like paying for college housing. When renting an off-campus apartment, you have your landlord who you reach out to when the sink won't work (which sometimes they fix) or they show up somewhat aggressively when it's time to pay rent. Your landlord probably isn't particularly friendly, and the entirety of your relationship revolves around them wanting to collect your money with as little interaction as possible. 
Adversely, the folks at Domain.com are more like that young, hip college RA that you had a little bit of a crush on whose main goal is to make sure you are succeeding. Yes, they are a business, and yes, their goal is to make money, but their level of service shows that they are there to grow with you. Like your RA, they have the goal of helping you figure out tough times and feel comfortable. Their service packages are designed to answer your questions, do a little hand holding, and offer mentorship through the daunting journey that is conquering the internet.
Rather than trying to reach out to your landlord a million times waiting for your leaky pipe to be fixed, consider teaming up with someone who is reachable and always ready to help you out. No matter the time or day. They can be your trusted advisor if you will let them. 
Lucy Long is a Strategic Communication major at Texas Christian University, with a minor in Digital Culture and Data Analytics. In between classes, she is active in the Kappa Alpha Theta sorority and collaborates with the team at Magnus Opus.