The latest style trend in college right now is cut off jean shorts.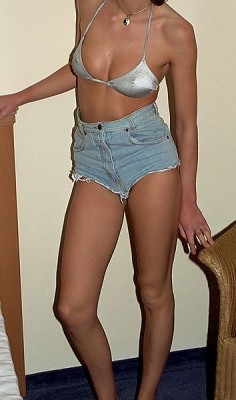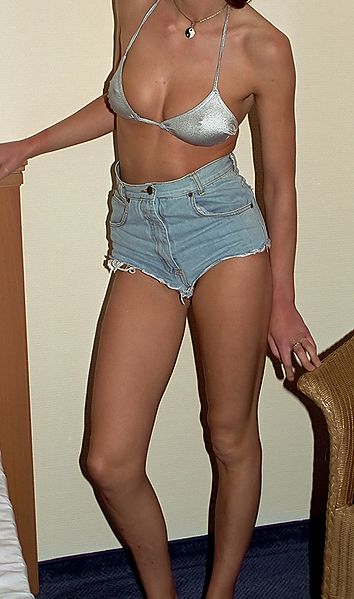 I feel like we're hopping back to the 90's with this one, but I do love a cute pair when they're worn well.
I went to a college town in Georgia this weekend and saw 21 girls with cut off shorts in a matter of hours. Yes, I counted. Some people wore them really well. Others… not so much.
College style is everchanging and I love catching up or beating these trends.
Whether you buy an expensive piece of cut off jeans made into chic shorts or make your own out of old 90's jeans that hit above your belly button.
(Don't) Let me see that thong
Now these cut offs in the photo are a little too short for me. I don't even want to show you the backside because they're practically a thong.
Personally, I think that's a little too much cheek. That's the biggest thing I see that's wrong with cut offs. Find a pair that fits your butt. Some of us have great upper butts and lag in the bottom cheeks. Others are thick and curvy all over and something too small will look like it's trying to escape the jeans.
FOPA
It takes certain body types to pull off fashion statements. I cannot pull off super long dresses. I'm way too short to make it look good. Some people need a certain kind of short to make cut offs look good too.
Now, you don't want a FOPA. Don't know what that means? Click here to figure it out. It's a phrase that's NSFW.
Make sure you wear something that fits you well. Not too tight. Not too loose. Know your shape and what looks good on your body.
Color
Cut off jean shorts come in all variations of colors. I've seen sparkly yellow, dark colored jeans, stone washed jean shorts. Find a pair that can go with multiple tops. I think black cut offs are very cute and can be worn with a ton of different colors. Also, you can dress it up and down.
Length
The length of your shorts also matter. You can't go too short when it comes to where it hits your torso. I like the way the shorts hit the woman in the picture above. I've seen some that are about an inch too short which makes the woman wearing them look a little funny.
This look is adorable and I think every girl can rock it. You just have to find the right pair for the right body. Just like dresses– not everyone looks good in a strapless, but an added cardigan or heels can really change a look.
Here are a few sites that give you a step-by-step when it comes to creating cut off jean shorts. There are also a few sites offering pre-made cute shorts.
Polyvore (shop)
True Religion (shop)