In less than a month for most of you, your college experience will be coming to an end.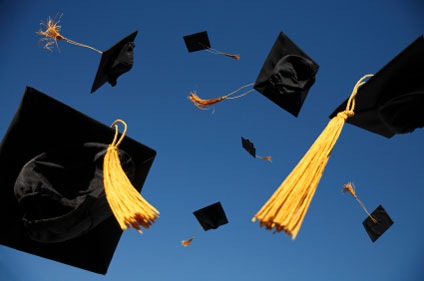 All of your hard work from the past four years (or more) has been leading up to this moment. Pat yourself on the back … you've made it to the end!
The period leading up to your graduation can be a little difficult to navigate, so here is some advice on making it through.
Keep your eyes on the prize
You're going to graduate soon, so now is the time to make sure that you don't slip up on your grades. It can be difficult to focus when you know the end is in sight, but you've got to push through these next few weeks and continue to get your work done and study for those final exams.
To avoid letting senioritis kick in, create a schedule and stick to it. Make sure to allot break times so that you get to enjoy your last few weeks as a student but also make sure that you're committed to keeping the studying time you've allotted.
Plan your graduation outfit
While girls are going to have more a problem with this than guys do, make sure that you've got your graduation outfit ready to go. You don't want to be stressing about what to wear the night before, so get your shopping done now.
You may be lucky enough to find something in your closet, but if not, you'll want to get to the mall pronto!
While the guide for appropriate graduation attire differs from school to school, always lean toward more conservative.
Host a graduation party
You've finally earned that diploma, so it's time to celebrate! Invite your friends and family members to partake in this special milestone in your life.
If you're nervous about all of the planning and cash it would take to throw a party, consider throwing a joint party with your fellow friends who are graduating. Not only will you not have to worry about planning your graduation parties around each other's, but you'll also throw a great party with all of your closest friends.
Wrap up loose ends
You'll want to spend as much time as possible with your friends in the last few days you have left on campus, so make sure you have all of your details taken care of long before graduation day.
For example, if you're going to be moving out of your apartment, make sure that you understand the process and the deadlines. Pack as much as you can ahead of time and try to repair as much as you can (i.e. holes in the wall or stains in the carpet). Make sure you've got some additional money in your account in case you have to pay fines when you move out.
Enjoy it all while you can
All of these final days are precious because your whole life is about to change, so cherish every second of it.
While you don't want to blow off your classes, try to spend as much time with your friends as possible. Visit all of your old haunts and make a point to cross off all of the items on your campus bucket list.
Although it's difficult, try not to worry about what's coming around the bend and live in the moment!