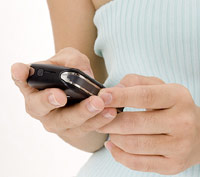 I'm always interested in trying out different apps and seeing what they're like. Here's my roundup of hits that you've got to try!
1. Vine
Vine is one of the coolest apps out there right now. With just the touch of your finger, you can edit together different video sequences, which can be uploaded to Twitter and/or Facebook.
What's cool is that you don't have to be a specific type of person to enjoy or use this app – there's a little something for everyone. Want to make a video of your crazy cat? There's a place for that on Vine. Want to capture the atmosphere of your favorite concert? There's also a place for that on Vine. The world is your oyster!
Currently, there's no way to search Vine accounts on the Web, but VineRoulette offers a pretty interesting glimpse into what's being uploaded!
2. Are You Smarter than a 5th Grader?
So while this isn't a completely new app, it's one that I've come to enjoy and obsess about recently.
You get to play your game against a bunch of other randomly assigned "classmates" while you answer questions on a diverse range of topics (varying in difficulty). If you are the highest scorer, you're able to advance to the final bonus round.
I like this game because it really makes me think and refreshes my knowledge on information I've lost since grade school.
3. Viggle
If you love watching TV and are a trivia buff like I am, you will absolutely love Viggle.
For every show that you watch live, you can check in and earn points. Your points add up and actually go toward prizes, such as subscriptions to magazines or gift cards.
For some shows, there's live trivia you can play along with that allows you to accumulate even more points. I had so much fun doing trivia with my friends on Viggle during the Super Bowl.
While it does have some glitches from time to time, it's definitely worth a try!
4. Whitagram
If you LOVE Instagram and use it frequently, this is an app you'll also want to look into.
Ever since Instagram's major update last year, you can't upload photos that are too horizontal or just not the right size. Whitagram solves this problem by allowing you to post your picture on the background color of your choice and then export it to Instagram.
Not only is it helpful, but the design and ease of the app is stunning. Try it out!
5. ScoreCenter
ESPN's ScoreCenter app is definitely not new. But its latest release fixes a bunch of glitches that made the app unbearable.
This app is great because it appeals to both the sports junkie and the fan who just wants to keep up with the latest on his/her team. It allows you track multiple teams from multiple sports by receiving alerts during the games and on the latest news.
With so many options available, this app is guaranteed to make any sports fan happy. Don't know what I'd do without it!
Any apps you think I should add to my list? Let me know in the comments!