This is a Sponsored post courtesy of Vonage Mobile
The good folks at Vonage Mobile had us download and review their free calling app for iPhone and Android, and I'm glad I checked it out.
Living in America and having friends and family in Australia, I am always looking for new and cheap ways to phone home. I only wish I had this app when I was in college as it would have saved me a lot of money.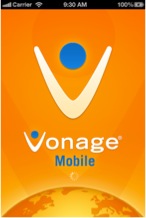 All I had to do was enter my mobile number and email address, they sent me a free text to validate my phone number and within minutes I was making free calls and sending text messages all over the globe. It was really that easy.
The installation was super fast and my phone essentially looked the same as it did before. The best part about using this app to make calls for me was the quality of the sound when calling app to app, and the simple yet clean user interface is a nice touch.
When making calls on other free apps, the sound quality is generally really bad  – I sometimes feel like I am in grade school again trying to talk to someone via two tin cans joined with string. But with Vonage Mobile, the days of the "tin-can" calls are over.
When calling app-to-app Vonage Mobile delivers what they call "high-def" voice quality – they certainly hit the mark with this feature of the service.
Aside from the obvious advantage for college students – free phone calls and texts – Vonage Mobile used my existing contacts to show which of my friends I could call for free.
It also allowed me to invite friends to make free calls right from my address book. Unlike other apps that allow me to make free calls, I didn't have to go searching to see who was already connected to Vonage Mobile – it did all the hard work for me.
The only downside was, out of my 600 contacts only 3 were connected to Vonage Mobile so far. As soon as word spreads that Vonage Mobile offers great calling rates to 190 countries, I am sure the app will take off and many more of my contacts will get on board. This is why we're happy to share this app with College Cures readers and spread the word.
Not to mention, the international per-minute rates average 70 percent less than major mobile carriers and 30 percent less than Skype – impressive! Anything to save some extra money is cool with me.
You can buy credit (in-App purchase) with your iTunes or Android Market account, so there is no need to enter a credit card.
The best thing about making international calls on Vonage Mobile is that the app shows the country (per minute) rate and remaining credit during every call. Checking my balance was easy and just one click away. I was able to make calls with confidence, knowing I wasn't going to get cut off mid-conversation like so many of those international phone cards do.
Even when the app wasn't open, I didn't miss a call or message.
Vonage Mobile
allows you to receive calls and texts from other Vonage Mobile users while the app isn't open.
Easy, simple, cheap, and with call quality that is second to none, I am certainly switching and sticking to Vonage Mobile when staying in touch with family and friends all over the world.
In summation, this is a great app for college students to not only save money but stay connected with friends and family. As word spreads, I expect more and more of my friends to starting texting and calling me for free using the Vonage Mobile app.
Click here for more information