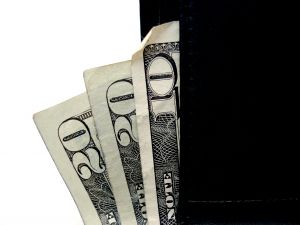 At some point in our college years, we've all had those dreaded days filled with the woes of being a "broke college student." You try not to complain about it, but then after eating Ramen Noodles for weeks, wearing the same clothes from high school, and having to cut back on your daily Starbucks fund, you realize that being in college can financially, well, suck.
To make matters worst (or least more stressful,) going to college and working full-time can also be a burden. Yes, you are bringing in cash, but at what cost? You find yourself dealing with the stress of juggling your workload, while having to cram and do school work as well. The money you do make is paying for your bills and your rent (unless you opt for dorm living or the better choice of staying at home,) and then you're also faced with the possibility of working a job you absolutely hate.
It's often true that many people might not get their dream job till graduating college, and even at that, it might not be your first post-grad job. But that doesn't mean you have to wait till graduation to start making money from something your passionate about. College should be about gaining the skills you need to follow your passion, and that passion you have can become a reality while you're in school.
We've all heard the story of Mark Zuckerberg and how he founded Facebook. Whether you followed Facebook from the beginning or you saw the Social Network, you know that his story all began in college. He was able to become his own boss in college, and ended up being the founder of one of the world's largest social sites. If it wasn't for him using his skills he learned while attending school, then he probably would have never founded Facebook. Imagine if he would have waited till graduating college to begin a business. But we all know, Zuckerberg never graduated from Harvard. Following the success of his innovative site, he was able to drop out of college and begin his life as a CEO.
You may not be the founder of the next Facebook (will anything ever surpass Facebook & Twitter?) but you can give it a shot, and use the time you have in college to be your own boss, make your own money. The step to being added to the list of the amazing young college entrepreneurs in our society all begins with having a passion. What are you passionate about? What's that one thing that you would do all day even if you didn't get paid for it? Or maybe there is something in the world or your environment that you feel needs to be addressed. Whatever your passion is, find it, believe in it, and begin finding innovative ways to bring in some cash flow. This will also help keep you off any debt collectors radar unless something is done my mistake, which can then be repaired relatively quickly.
Everyone may have different ways to bring in money from their passion, but the main thing each grind needs to have in common is determination & creativity. Be creative and utilize every resource you have, in particular online. Below are just a few tips that might help you start your own business while in college & bring in some extra cash.
Read some business books
Sign up for freelance & telecommute jobs (especially if you're a writer or artist)
Tutoring is a great way to make money, also start your own business
If you live in an urban community, you can look at dog walking and starting your own business
If you're great at cooking, you can start selling your recipes & baked goods to friends
If you're artistic, you can sell your crafts & artwork online
Musicians can sell beats online, start your own production company
Blog for money
Computer repair. Start your own computer repair business
Collect antiques & unique finds, then sell them online. That's a great business. I've done that on the side.
Love fashion design? Then start selling your designs. Build a website and market your work!
If you're athletic or studying physical education, you could always start your own personal training sessions on campus
These are just a few creative ideas. The main key to making money is to find your niche, try new things, and don't be afraid to fail.
Turn your passion into cash, and give it a shot!