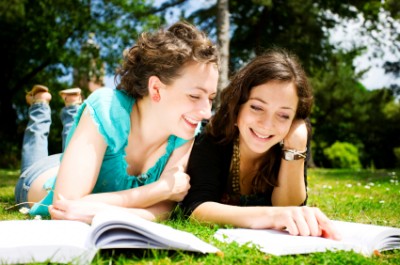 Whether you're in college or starting your first "real" job, we all want to make friends and network with our peers. Yet, having a sea of new faces all around us can feel a little daunting, especially if we're not the most extroverted person in the room. Making friends in college, or at your first job, doesn't have to feel like a trip to the dentist – here's some tried and true ways to make friends, the painless way.
Smile. People naturally want to connect with other happy people, and sure, we all have our good and bad days, but looking happy is going to win you more friends than frowning would. You may not want to say hello or directly smile at every person you walk past, but keep a pleased expression on your face and casually look people in the eye from time to time as you walk past them.
Keep Gum and Mints On Hand. A quick way to strike up a conversation with someone in class or at work is to pull out a piece of gum or a mint, have one, and offer it to the people around you. Mention how great the gum or mints brand is, other ones you've tried, etc. Conversing for just a minute or two is the first step to future conversations.
Join In. If you're into athletics, join an athletic team or intramural sport. Even simply going to the gym regularly is a great way to meet other regulars. Extracurricular activities such as clubs for your major, the campus newspaper, and philanthropic organizations on campus all also help connect you with a group of like-minded people. Same goes for post-grads – look for cooking classes, running and biking clubs, art classes, etc, in your town.
Roommates Are Key. Making that first friend is always the hardest, isn't it? Take the time to get to know your roommate and get coffee together, go to lunch, etc. She or he will likely introduce you to some friends, and you can expand your network from there.
Go Greek. Greek chapters are made up of all types of people, so it's okay to be a little shy! Visit the Greek chapters on campus during recruitment, and have your interests and achievements at the top of your mind so you can talk about them with current chapter members. Be open minded, and have that bright smile on your face! Being accepted into a Greek chapter is a perfect way to not only meet a whole batch of new friends (all at once!), but also a wonderful support system.
Making friends isn't always easy, whether you're in college or working your first real world job. Keep your chin up and smile – you'll appear open and easy to talk to. Have patience, as building up a friendship takes time. Even a one minute conversation or quick "hello" matters, so give it time, and let the friendship develop naturally. You'll get there!
Bio: We're Greek alums ourselves here at GreekForMe.com, and we know all about how hard it can be to make friends – that's why we became Greeks! We hope you'll go Greek and join in with your new friends by wearing Sorority Charms or Fraternity Rings – they're a great conversation starter, too!