This post is a Sponsored Review by Samsonite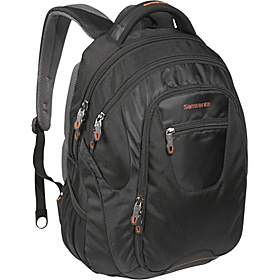 We were recently contacted by Samsonite to review their "Tectonic Medium Backpack" and how it can benefit today's busy college student.  College Cures and a variety of college students were given a Samsonite Tectonic Medium Backpack to review.
Samsonite Unisex – Adult Tectonic Large Backpack, Black/Orange, One Size
First, some details on this backpack:
Rubber coated, cushion comfort grip handle
Padded laptop compartment that fits up to 15.6″ laptops
Oversized zipper pulls
Interior mesh and zippered pockets for easy organization
2 water bottle pockets
Air mesh back padding that allows air to circulate
Quality.
This backpack from Samsonite pretty much has it all for anybody, not even just a college student, but any professional on the go. Light, comfortable and equipped with tons of pouches and compartments for easy storage. A soft and efficient laptop pouch for carrying around college's most necessary tool.  Two water bottle pockets and even soft grips on zippers and handles add that extra comfort that cheaper backpacks tend to ignore.
Air flow
By far the coolest feature of this backpack is likely the least noticed. Where your backpack touches your back there is a series of mesh pads with space in between that allows air to flow through.  In the harsh Florida summertime (right now) this has proven an essential tool for me when traveling around with my valuables. I can stay cool when the temperatures head towards the 100 mark and be sure to avoid having to peel off a sweaty backpack.
One thing that is for sure about this backpack is there is no sacrificing quality. Every element of this pack is fully equipped.  The zipper handles have rubber grips and are durable to avoid breakage over time. The zipper track is strong and durable and its easy to see it.
Spending a little extra on this Samsonite Tectonic Medium Backpack seems like a no-brainer for today's college students and professionals on the go.
Durable. Lightweight. Organized. Equipped. Solid.
Pickup one for yourself on Amazon:
Here are some more features as detailed on Samsonite.com:
1682 Denier Nylon – Nylon is a high strength, durable material with excellent wear properties. The term " denier" (D) refers to the size of the yarn used: the larger the denier the bigger the yarn.
Top carry handle – Allows you to lift the case with ease and comfort, or carry it by hand when rolling isn't an option.
Laptop compartment – Is a built-in padded compartment designed to carry your laptop computer and help protect it from shocks while traveling.
Padded shoulder strap – Are designed for comfort and ease of carrying. Non-slip shoulder pads attached to the strap disburse weight more evenly on your shoulder while you travel. A swivel clip at the end of the strap helps prevent twisting.
Water Bottle holder – A side mesh compartment designed to hold your water bottle.