Who knew a conversation on Twitter could lead to an interview with funny-and-I-know-it comedian, Colin Kane!?
With his bold, in-your-face humor, this New York comedian knows how to get your attention and then keep it. Refusing to label himself even when others do, Kane says his comedy focuses on being honest, real and telling it how it is:
"I've been doing stand-up for eight years, but I've been making fun of people my whole life."
He draws from real life experiences like those he has had from living in New York, things he's tried, and any real-life observations he finds comedy-worthy.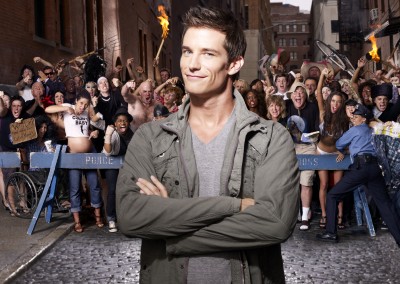 His presence on stage is calm, cool and collected and if he was nervous, you would never know it.
He has one of those attitudes where he is going to say what he wants to say and doesn't give a sh*t what anyone thinks about it. But at the same time, you can tell he is just a regular guy, being himself, which is an admirable quality for someone in show biz.
Kane had a two year gig at the world renowned Caroline's on Broadway, and has continued the hustle by performing for 7,000 fans at the Madison Square Garden Theater and headlining at Comix in NYC.
The CollegeCures Exclusive Interview:
CC: How did you get your start as a comedian?
CK: Honestly, I was tired of seeing people on TV who weren't funny. So I just got the balls and grabbed the mic. Even as a little kid, I was always telling jokes and playing pranks and making people laugh. At a certain point I just knew this was what I was born to do, and decided to make it my career. Haven't looked back since.
CC: Did you go to college and if so, what was your best memory?
CK: I went to college but not to class, and the only thing I remember is, "Dónde está la biblioteca?" No, I did go to college for awhile, but I spent most of it partying and not doing my homework. I had a lot of funny people around me though, and made great friends there – so that's probably my favorite memory. Just being around them and cracking jokes.
CC: What is your pump up jam you like to listen to before going on stage?
CK: I listen to Eminem a lot, especially his new album. He inspires me because he had to go through a lot of pain to get to where he wanted to be, and he is honest about the journey. I'm also really into Diddy's new single, "I'm Coming Home" because it has a sick beat and a powerful message. Before shows, I listen to whatever has been inspiring me and gets me revved up and ready to kill it.
CC: Advice to people pursuing their dreams?
CK: No one is going to give it to you; you've got to create it yourself. Always take risks. Follow your gut even when other people question you, and don't take "no" for an answer. You may have to sacrifice other things to get to your goal, and at times, it's going to be a challenge. But no matter what, never forget – I will always be better than you.
There you have it; serious words from a funny man.
While Kane certainly has show-stopping qualities as a comedian, he clearly knows what it takes to make your dreams happen: hard work, dedication, and never letting something stand in your way.
Check out his stand up here or visit Colin's Website for more videos and information. Check out his Facebook and Twitter; he actually tweets back!
Colin can be booked for colleges by visiting his booking site here or emailing this address directly: Bookings@ColinKane.com.