Two legendary rappers "put aside ego's" to collaborate on ambitious album; "Watch The Throne".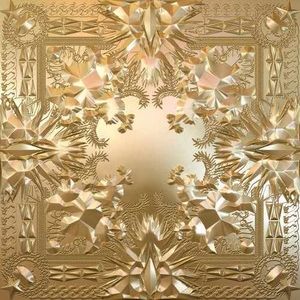 These two rappers need no introduction. Kanye West and Jay-Z collaborated heavily in 2010 lending their own flare to each other's personal albums. They decided in the middle of all this process to create a 5 track EP called "Watch The Throne". Then in October of 2010 Kanye West dropped the bomb, we were getting a full 11 track album with a deluxe edition available too. The two biggest egos of the rap game were planning on changing it again. Not only changing the game, but showing all the newcomers what to strive to be. However, did the two "Kings" really put together an album worth noting? Something for the history books?
The opening track "No Church In The Wild" is the prelude and preview to how the visions of both rappers along with their styles can become a cohesive unit. "No Church In The Wild" is the combination of Kanye West's "Jesus Walks" and Jay-Z's "99 Problems". Both of those tracks are considered the staple of the individual rappers at their best. Luckily here, the combination works. With Frank Ocean's (see his album review here) expansive range, he lends a wonderful helping hand for the hook. The Dream also makes an appearance in an auto-tuned waterfall of a melody for the bridge. Honestly, this opening track is one of the strongest because it absolutely defines the entire album. Filled with political commentary, social injustices, and word play, this track showcases Jay-Z's undeniable ability to make any word sound poetic and fluid. Kanye West still has his "swag" and emotional aspect which perfectly balances Jay-Z's fluid, natural feel.
What about the rest of the album though? The whole album definitely features profound perfectionism through the production sound, perfect chopped and skewed samples, great lyrics, fantastic featured vocalists but the one important factor missing that made My Beautiful Dark Twisted Fantasy classic is a theme. It is missing a cohesive theme, and sounds more like a combination of singles put together. Great tracks to look into though, the single "Otis", "Why I Love You" featuring Mr. Hudson, "Lift Off" featuring Beyonce, "No Church in The Wild" featuring Frank Ocean, "Who Gon Stop Me" and "Gotta Have It". They are the strongest tracks, showcasing varied soundscapes, rhythmic structures and lyrically versatility.
It is not doubt challenging not to enjoy this album. You have flawless production, two legendary rappers, fantastic featured artists and the same "color palette" introduced from My Beautiful Dark Twisted Fantasy. However there is no cohesive theme to successfully drive this album. The greatest have always tried to come together. Superman and Batman series did only so well, but a lack of drive in the character development dropped sales. Same goes here, it's a great idea, but feels too much like the B-sides of My Beautiful Dark Twisted Fantasy. Hopefully they try it again sooner than later, this time having some form of direction.