Are you following the top brands on YouTube? If you've avoided corporate accounts because you thought they'd clog your feed with commercials, you might reconsider. These companies aren't just using their channels to sell products; they are producing content that entertains, educates, and enlightens. Check out the innovative ways these brands are using video, and you might decide to follow their corporate channels.
Red Bull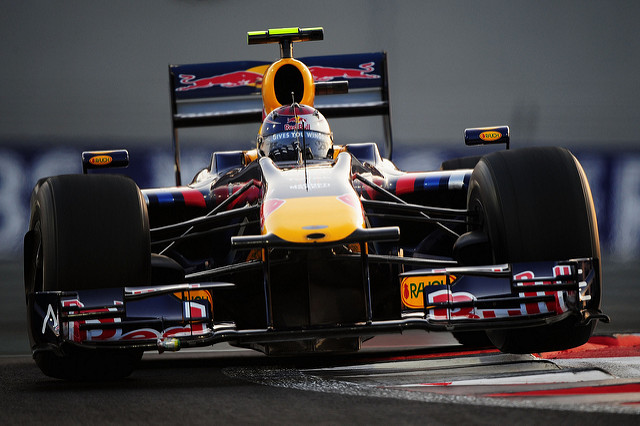 Image via Flickr by iragazzidiredbull
This ubiquitous energy drink brand uses its YouTube channel to showcase a high-energy way of life. Most of the channel's 5 million subscribers are probably watching from their couch and might never base jump, mountain bike, skateboard, go hydrofoil racing, or windsurf in a hurricane, but it's still fun to watch those crazy Red Bull drinkers tackle these activities in a YouTube clip. That's why Red Bull is currently the most-subscribed corporate channel on YouTube.
Best Buy
Tech lovers and early adopters will enjoy this well-organized corporate channel, which offers entertaining demo clips of innovative products that are coming to the store, such as computers and tablets, home theater equipment, and small appliances. There's also a Geek Squad channel that offers instructional videos on everything from installing your car stereo to setting up a secure Wi-Fi connection.
AmwayUS
Amway's videos are as diverse as the company. Follow Amway's YouTube channel to learn more about topics that run the gamut from home care to beauty, with a strong focus on optimal health (related to the company's Nutrilite product lines). If you're interested in learning more about Amway sales as an alternative to traditional employment, a slew of videos lets you hear first-person accounts from people who are doing that. A number of videos are available in Spanish as well as English.
GoPro
When your name is synonymous with filming action, your video channel has to be great. If you browse the GoPro YouTube channel, you'll see hot air balloons, skateboarding, sports events, crazy bicycle stunts, and glorious travel scenery. The channel also offers mini-documentaries showcasing the work of artists, musicians, or charities around the world. The GoPro channel is a smorgasbord of top-quality short films for people who want to engage with the world around them.
Lego
Lego currently has the largest viewing audience of any corporate YouTube channel. The brand produces regular episodes of several web-based programs, including Lego Friends, the Build Zone, and Lego Ninjago. These animated shorts tie in with the popular building blocks and bring the toys to life. Most of the videos are under five minutes, so they're well-suited for short attention spans but also lend themselves to binge watching.
Warner Bros. Pictures
Movie buffs should be following Warner Bros. so that they don't miss trailers for the latest theatrical releases. The Warner Bros. YouTube channel also offers featurettes, fan events, and announcement teases. Special interest trailers produced for events such as Comic-Con also turn up here. Several highly successful films such as Suicide Squad, Sully, and The Accountant, as well as highly anticipated features such as Wonder Woman and Fantastic Beasts and Where to Find Them, are keeping the Warner Bros. channel in one of the top spots on YouTube.
PlayStation
For its wildly popular YouTube stream, PlayStation combines professionally produced videos about PlayStation products with consumer-generated clips from other fans of the gaming system. Subscribers get the first look at new game trailers, in-game moments, behind-the-scenes footage, tips and tricks, and exclusive sneak peeks into games being developed. If you're a gamer, you definitely want to follow this one.
Apple
Apple is one of the top innovators in the world, where the products of tomorrow are being dreamed up every day. The company's YouTube channel is a tech lover's playground, featuring slickly produced videos showcasing some of the most up-to-date lifestyle products on the market. If you worry about being left behind by the tech marketplace, you need to be here.
Following these top corporate YouTube channels is a great way to stay on top of the latest developments related to your career, your hobbies, and the world around you.