The great folks at MicroVision and WOWee have been kind enough to offer us some of their products to use and review here on the site. We've review a few different products now but this might be the coolest one yet, it's surely the most unique.
Never until now had I seen such a thing in real life, but my immediate thought was how amazing and useful this device would be in everyday situations, business meetings, studying, presentations, movies in small spaces, general fun and much more. The MicroVision SHOWWX+ is a handheld projector the size of a cellphone. It can project hundreds of inches wide on the wall and boasts ridiculous clarity for how tiny it is.
On the package it shows people camping and projecting the screen onto the side of a tent. Or in this case, the wall of a dorm room, a conference room, a hallway, whatever. You could even project it onto the ceiling and watch it as you go to sleep (or the bottom of a bunk bed I suppose.)
In a nutshell this thing is awesome. I moved into a new house and didn't have the cable hooked up yet. I had the pleasure of projecting a 100+ inch screen onto the wall with my projector to watch a movie. The only downfall I have found from this amazing device is after 3-4 hours of projecting it can get pretty warm. It doesn't help that I live in Florida, either.  The point is that it will work for a movie, presentation, a few episodes of a favorite show or even projecting your computer screen on the wall to study with people and collaborate.
This thing is built for the mobile world. It connects directly to an iPod, iPhone or iPad. You can instantly stream movies from any of these devices with ease.
MicroVision was also kind enough to send over the VGA adapter so I could stream the screen of my laptop or a DVD.  It's extremely easy to setup and as soon as you plug the VGA into your computer, the screen resolution sets and you're ready to go.
So you're projecting on the go, but we all know iPods don't have speakers. You have this magnificent device but no sound. Here is where the WOWee One Portable Speakers swoop in to save the day. Plug the speakers into your USB drive on your laptop or go off just the battery by plugging in only the headphone jack. With a device nearly the same size as the projector, you have surprisingly loud audio and even some bass, from a tiny, mobile, speaker system. Outrageous.
Here is how they put it:
With school back in session and the colder months upon us, entertaining in college can be tough. For most students, space is limited, furniture is questionable and it's a fight to snag a space near the TV. Recently, MicroVision and WOWee ONE joined forces to offer a bundle that essentially allows students to carry a home theater in their pocket. With the MicroVision SHOWWX+ pico projector and WOWee ONE compact speaker, students can turn their cramped dorm, small apartment living room, or run down basement into a full-fledged home theater.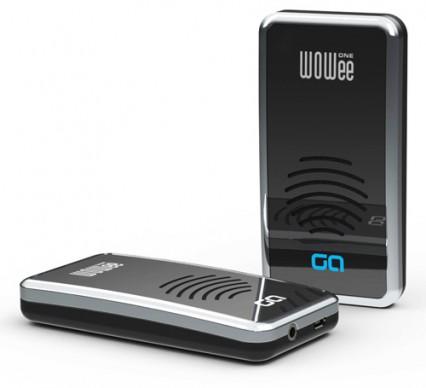 MicroVision's SHOWWX+ is a hand-held laser pico projector, compatible with devices offering video-out, and can display vivid images and videos on almost any surface up to 100 inches. Its portable size and infinite focus, thanks to the PicoP technology, make it the perfect pair with the WOWee ONE Classic portable speaker – giving students a full audio visual experience.
Together, the MicroVision SHOWWX+ and WOWee ONE can turn your mobile and iOS devices into a portable, compact home theater, whether it's used to watch your favorite movies in the dorm room, share videos from your iPod, or display information during a study session straight from your iPad. The SHOWWX+ eliminates the small fixed screen while the WOWee ONE creates room filling sound, so students no longer have to huddle around their devices but instead get a full theater experience without the bulky equipment.
This thing is the real deal, I am a satisfied user and am thrilled to have both the MicroVision SHOWWX+ projector and the WOWee One speakers in my toolbox. For me, post-college life finds these products useful in office presentations, sales meetings and when I offer WordPress training to my clients.  I recommend both products highly and will thoroughly enjoy them for a long time to come.