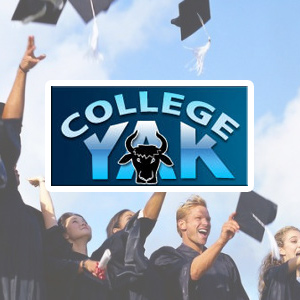 Press release from CollegeYak.com – an online community for college students, parents, teachers, alumni and more.  Below you'll find details about College Yak and what they aim to accomplish.
Introducing Collegeyak, a social networking site focusing on giving students the resources they need to achieve in college. Founded in 2009, collegeyak's mission is to give every individual the opportunite to achieve success giving them the resources to do so.
When it comes to preparing for college it's not a easy task. At Collegeyak we provide you with the resources you need to make it an easier transition. Whether you are a prospective, current, or graduate student looking to brush up on basic skills, learn a new trade, or earn a degree, Collegeyak can help you achieve your goal.
In today's rapidly shifting job market, unemployed and under employed professionals are returning to school in greater numbers. They are eager to further their education. Collegeyak can help them do just that. For those who've put off education due to financial concerns, please take a look at what grants and scholarships are available.
As we wait for an economic recovery, career services and training programs provided by community colleges, universities, and tech institutes take on a central role in helping people stay a float. Their efforts provide students with the information and education that will give them the best opportunities to succeed in the future.
If there are any resources you know of not listed, and would like to share them with all members, please feel free to email the resourcecenter@collegeyak.com, and we will add them to our resource center. In conclusion, take advantage of our many resources available to you in aiding you to further your education.
CollegeYak.com
Here is an entry in the College Yak blog from when things were just getting started:
At most colleges and universities they want you to be quiet in the library so others can study without distraction. At collegeyak.com we want you to talk. We want you to share information about your school so those other studentscan learn about it, solve problems they may be having, and figure out the key aspects of attending your school. Wewant to make the college experience easier so you will be able to deal with issues you may encounter, and you canfocus on getting that great education. Whether you are still in high school and making decisions about which collegeor university you will be attending, are just starting, have been there a few years, or even if you have already graduated,collegeyak.com members need and want your insights about all schools.

Explore the categories of information and resources we provide here and join our community. Give and get help aboutspecific issues. Network with fellow students to learn more about a particular school. Learn how to pick the best classes,find cheaper books, locate a scholarship or a tutor, talk things over with another student that you don't want to discussat home, learn how to be successful at your school and beyond, and share your experiences and the resources you mayhave uncovered to help your peers as well.

This site is dedicated to providing students with information that is generally not found in a class curriculum. Why? Because there is more to college life than books and papers and sometimes that information is hard to find unless you are already living it. With your help our community will grow and every student in every college across the country will achieve their educational goals while also helping others succeed. Join now. It's free and someone here just might have the answer you have been looking for.